Playstation 1 DFO Dual Frequency Oscillator Chip [MFO]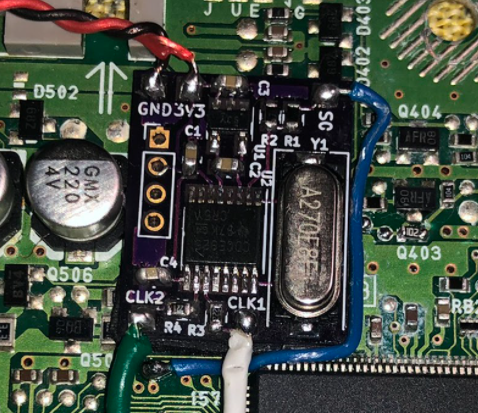 PS1 DFO-MFO
PS1 DFO - MFO purhase / intstall service form:
More info about MFO and DFO mods:
Automatic 50/60Hz switching :
Every PSX can switch between PAL and NTSC via a simple software command. This is why games run in 50 or 60 Hz, based on which region they were meant for.
What the PSX cannot do though, is switching in a correct color subcarrier clock for the out of region display mode.
The DFO provides this clock, and so restores color encoding for Composite and S-Video.
MFO [Multiple Frequency Oscillator] - DFO [Dual Frequency Oscillator] :
Aim for perfect RGB video output
Aim for perfect NTSC 60Hz/29,97fps and perfect PAL 50Hz/25fps signal out of a PAL console.
Improves timming when playing at different region games in our PAL/NTCS console.
Restore color encoding.
MFO :
Aim for perfect RGB video output, but maintain RF, Composite, S-video and Component video capabilities (if these were available from factory).
DFO:
ONLY uses RGB (RGB doesn't need/use the subcarrier color frequency)
Example usage:
Unmodded PAL PS1 playing NTSC video/games: I'll get an NTSC 4.43 video signal which TV sets either can't handle and display only black & white, or they handle poorly (messed up black levels, borders etc). The framerate will also be ~29.70 FPS instead of real NTSC 29.97 FPS, which will cause video-audio desync if playing for too long.​
Unmodded NTSC PS1 playing PAL video/games: Similar problems as above or worse. I'll get a PAL 3.58 video signal with wrong framerate (not exactly 25 FPS) which almost no standard CRT TV can display (monochrome, rolling picture etc).​
When you really need it:
Konami's "Benami" games (e.g. beatmania or dance dance revolution) as well as other rythm games on the PS1 need accurate timing in order to be playable. Otherwise the video and audio will get desynchronised. The MFO fixes the timing when playing other region such games, so they become completely and accurately playable with this mod!)
Compatibility:
PAL TV set must be compatible with real NTSC 3.58 / 60Hz video signal and vice versa for the MFO to do its magic and be the perfect the solution.)
Compatible with PS1 consoles: SCPH100x, SCPH5xxx, SCPH75xx, SCPH90xx SCPH-10X.
PlayStation 1 Mods
Memcard PRO: A playstation 1 memcard with infinite virtual cards Purchase.
Playstation pico psu : Allows external power supply which consumes less power, runs much cooler and safer (optional comes with a fan).
I replace all the old main motherboard smd capacitors with high quality solid state capacitors
Ps1 recap service
Only motherboard
For PSU I suggest directly replace for PICO PSU